The Muslim Community Center at 4380 N. Elston Ave.—one of Chicago's oldest mosques, I believe—has had problems in recent days. First-off, some brave, anonymous kook burned a Koran on their doorstep, while this week part of the their building's facade crumbled off and injured a pedestrian. One good thing came of the latter event: the center is in the process of removing the old facade, revealing a rather fancy archway underneath (just barely; sorry the pictures couldn't be better). Research revealed that the center was first occupied by the Muslims in 1969. Before that it was the Rivoli Theater.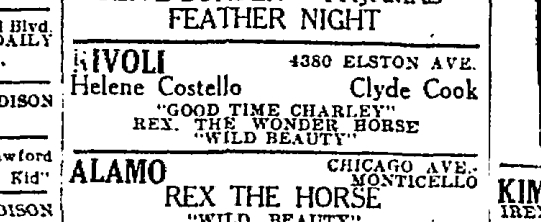 (As a side note: What do you suppose happened on "Feather Night"?)
I haven't turned up a photo of the original facade, but I'm looking. Until them, here are a few snapshots taken from across the street. I love when stuff like this turns up during construction.
The Rivoli went through a lot of changes. I've come across articles describing it as a theater, a dance hall, and a country and western joint where Ray Price played. How bizarre.
Also, it seems that Rex the Wonder Horse was a fucker.