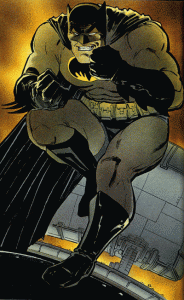 This morning I was helping Nate get dressed, and I suited him up in one of his two or three Batman shirts. It looks like a Dick Giordano Batman, courageously going forth to fight the bad guys with Gotham City as a backdrop. I noted that the shirt had a caption:
Me: (Pointing at each word.) Nate, that says "THE CAPED CRUSADER SAVES GOTHAM CITY!"
Nate: Caped crusader!
Me: Yeah, that's one of Batman's nicknames.
Nate: Batman! (Distracted by something.)
Me (To my wife Michael): But in the end, the Caped Crusader realized that Gotham first had to save (dramatic pause) itself.
Mike: Ha ha!
Nate: (Wanders off.)
Me: "Caped crusader." It sounds like he was mounting an anti-porn campaign.
Mike: Heh heh!
Me: (Christian Bale Dark Knight voice) Gotham has too many sex shops and porno theaters! We need to clean up this city once and for all!
Mike: Ho ho!
Me: (CBDKV) Will no one think of the children!?!
Mike: Har har!
Me: (CBDKV) ROBIN WALKS BY THAT STORE EVERY DAY ON HIS WAY TO SCHOOL!!!
Mike: Ha ha!
At this point, Nate began impersonating me impersonating Christian Bale impersonating Batman. Which was completely hilarious.
End scene.